Zoom In
|Zoom Out|
Normal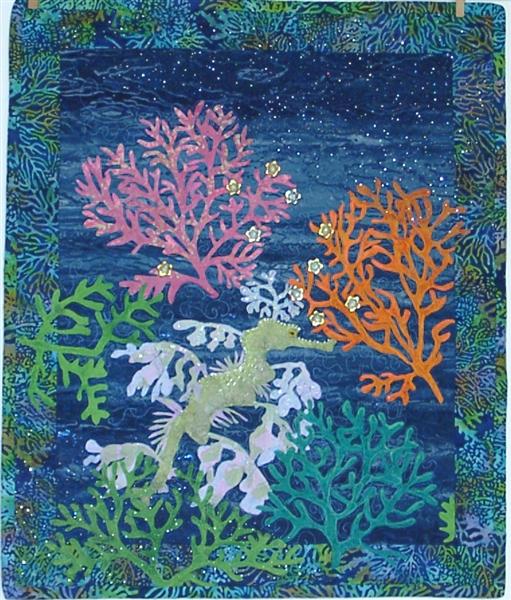 Dragons in the Deep Down Under
Made for the Michigan Quilt Artist Invitational Show, 2005. The show theme was Australia. Includes Batiks, netting, glitter paint, watercolor pencils and glass beads. Made in 2005. Size 20"x24".
copyright ©2005 by Kathleen Campau
The following is an excerpt from the Flint Journal by Christopher R. Young, September 19, 2005. In "Dragons in the Deep Down Under" by Kathleen Campau of Ann Arbor coral passages vibrate with vitality and an unbridled sense of joy. Cutout networks of fabric defining the coral in flashing pink, lime green and aquamarine colors are pristinely appliqued to a cobalt blue background. A pale-greenish seahorse seems subdued by its coral reef habitat. Small glass flowers and glittering flecks are scattered over the surface to heighten the sense of light and water.